Year 8 - Have a look at the photos and read the description of school life in Morocco.
Don't forget to leave your comments!
L'école de nos amis au Maroc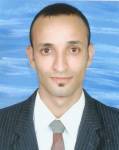 Jalal, le professeur 
L' école et le desert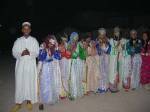 Nos correspondant(e)s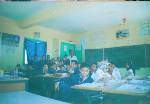 En classe 

- Pour les horaires ici au Maroc depuis 3 ans , on travaille avec l'horaire continue , c'est à dire , csi tu travailles le matin , tu ne travailles pas l'après midi , et l'inverse ,

- Chaque jour on travaille 4 heures et demie , soit de huit heures à midi et demie et bien sûr 10 minutes de récrèation entre dix heures et quart et dix heures vingt-cing, soit entre une heure moins le quart et cinq heures et quart et 10 minutes de récrèation entre trois heures et trois heures dix .

-Pour notre école, c'est à dire la grande école, ou il y a le directeur , " s/s aourir "   s/s signifie secteur scolaire , et chaque trois ou deux enseignants travaillent dans une branche , la branche est une petite école de 2 ou 3 salles de classes . 

-Le nombre de professeurs dans le secteur scolaire est 13 avec le directeur ça fait 14.

- Bien sûr, comme dans toutes les écoles , il n'y a pas beaucoup de professeurs, et par conséquent , on essaye de résoudre le problème et de faire des classes multiples.
,
-Pour les matières on fait : la géographie , l'éducation nationale, l'éducation sportive , les maths , les activités scientifiques, la lecture, l'expréssion orale , la réligion, le dessin.